Everything You And Your Student Need
Off-campus living in Austin has never been better and more convenient than Dobie Twenty21. Our community combines the best of dorm-style living with amenities that add even more convenience, security, and socialization. This is your student's home away from home complete with resident events to keep them engaged, private study rooms to help them succeed, meal plans in the on-site Dobie Cafe, and even complimentary housekeeping inside their dorm. This is the ideal combination of wellness, entertainment, and student success. This is where Longhorns live.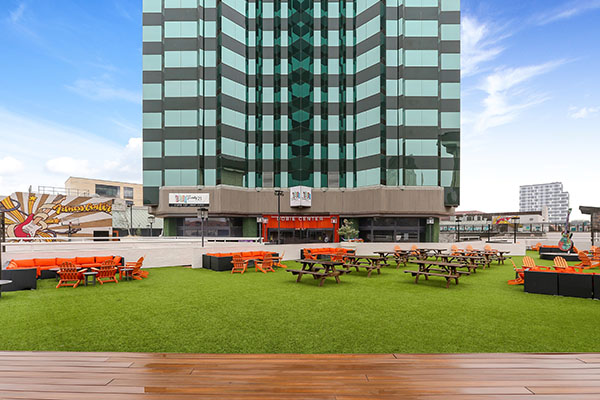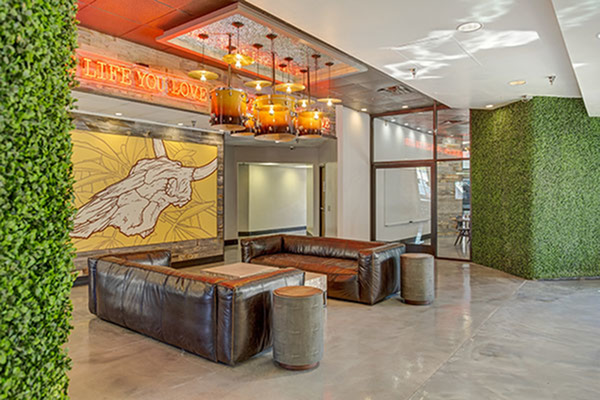 The Social Pledge
Our student community is part of The Social Student Spaces, a collection of student housing communities that balance student success with socialization and friendship. At Dobie Twenty21, we work to maintain the four pillars of The Social Pledge:
Constant Communication
Always just a call or email away, our team makes it easy for you and your college student to get your questions answered, communicate with our team at any time, and submit maintenance requests online. Download our app for Android or iPhone, take advantage of our SMS texting capabilities, use our online communications portal, or call our 24/7 customer service line. We're here when you need us.
Friendship
Our roommate matching service starts with a detailed questionnaire for your college student to complete. The answers help us find someone with similar interests and lifestyle goals, ensuring a great fit. We also have social communal spaces and resident-exclusive events where neighbors can meet, mingle, and build genuine friendships.
Community Rewards
Download our Community Rewards mobile app to get incentives every time you write a review, submit a referral, fill out a survey, or complete a resident challenge. Through our points program and gift card rewards, you can engage with the community and earn great items from your favorite retailers.
Easing the Financial Burden
Everyone has different leasing needs, and we're happy to accommodate yours. We offer flexible options, including private and shared rooms, monthly, semi-annual, and annual payment plans, and inclusive rates with no hidden fees. Students and parents have enough to stress about—rent payments shouldn't be one of them.
Off-campus Housing with On-campus Benefits
Just 21 steps from campus, Dobie Twenty21 offers you and your student the benefits of an optional, unlimited meal plan, an on-site Target and food court, free bi-weekly housekeeping, and more.
Frequently Asked Questions
Our studio and two-bedroom dorm-style apartments in Austin are designed to give you and your student peace of mind when it comes to your off-campus student housing. If you have questions, we have answers.
I am new to off-campus housing. Can you tell me a little about it?
Off-campus student housing at Dobie Twenty21 provides amenities designed specifically for UT Austin students with the added bonus of more housing options, more diverse amenities, and closer proximity to all your favorite attractions in Austin. This is the best of dorm-style living with added amenities like weekly housekeeping, included utilities, in-home kitchenettes, an on-site Target, and more.
Which amenities set Dobie Twenty21 apart?
Dobie Twenty21 has one of the best amenity packages available in Austin. Designed specifically with students in mind, we offer private and group study areas, a business center with MacBooks and complimentary printing, a rooftop pool and park with basketball, a 24-hour fitness center, unlimited meal plans in the Dobie Cafe, an on-site Target and food court, an on-site parking garage with guest parking, on-site security, and a location just off the Drag and 21 steps from the UT Austin campus.
Can I get a virtual tour?
Of course! We offer virtual tours for students and parents, so you can experience Dobie Twenty21 even if you're not in Austin. Just give us a call and we'll set up yours.
Do you offer roommate matching?
Absolutely! Available if you need it, our in-depth roommate matching questionnaire helps us match you with a roommate based on your preferences, likes and dislikes, and preferred floor plan.
Can I request specific roommates?
Yes! If you already have a roommate, let us know during the leasing process and we'll make sure you're paired together.
What is included in my rent payments?
Dobie Twenty21 is all-inclusive. Your rent includes all utilities (water, sewer, trash, gas, and electricity), cable and high-speed Internet, your furniture package, bi-weekly housekeeping, and full access to our community amenities.
Do you offer Meal Plans?
All Dobie residents can purchase a meal plan for $450 per month which includes access to unlimited meals in our on-site Dobie Cafe. Our rotating menu offers a variety of options, including vegan, vegetarian, and G8 meals. Open from 7am to 8pm Monday through Friday and 10:30am to 8pm on weekends, residents can get breakfast, lunch, dinner, weekend brunch, and to-go lunch boxes available by pre-order.
Do you offer fully-furnished dorms?
Yes, our fully-furnished studios and two-bedroom apartments come with different furniture packages depending on the floor plan. Studios come with an extra large, pillow-top twin mattress and bed frame with built-in dresser and storage, a desk, and a desk chair. Two-bedroom apartments come with an extra large, pillow-top twin mattress and bed frame with built-in dresser and storage, a desk and desk chair, a couch, a chair, an entertainment stand, and a dining room table with chairs.
Do you allow pets?
Unfortunately, we do not allow pets. If you have a service animal or assistive animal of any kind, please alert us during the leasing process.
Is Renters Insurance required?
Yes, our community requires each resident to have an active tenant liability policy for damage to the landlord's property during the term of their lease. We require a minimum of $100,000 in general liability coverage and recommend personal property insurance. You can request a free quote from our preferred insurance provider, eRenterPlan.
Do you allow early move-ins?
Yes, we do! Ask us about an early move-in during your leasing process and we'll accommodate you as best we can.
What safety precautions are in place?
We do everything we can to ensure you have a comfortable living environment. At Dobie, we have on-site courtesy patrol available 24/7, identification is required for entry after office hours, and our on-site parking garage is gated.
Can I pay up front?
Yes! You may also pay by semester.
Do you provide on-site maintenance? How do we report any maintenance related issues?
Yes, we do have on-site maintenance. Our online Resident Portal makes it easy to submit work requests online directly to our office staff. Our maintenance staff is great at quickly responding to our residents' needs! You will know when your work is completed via email by receiving a satisfaction survey. We love to hear the opinions of our residents so that we can continually improve our services.
I am ready to live here! What is the first step?
Great! We look forward to having you! We ask that the resident fills out an online application. It only takes 15-20 minutes! If you are signing with a guarantor, they may also complete their portion of the application at the same time. It's that easy!
Do I have to have a guarantor?
A guarantor is not required if an applicant meets both our individual income and credit requirements outlined in the Terms and Conditions.
What is an individual lease?
An individual lease means you're responsible only for your portion of rent, so you won't be penalized for missed or late payments by roommates.
I'm ready to live here! What is the first step?
We can't wait to welcome you on move-in day! You can start by filling out our online application. It takes 15-20 minutes, and, if you're utilizing a guarantor, they can fill out their portion at the same time.
How do I qualify to live at Dobie Twenty21?
You can complete our application and approval process all online. Simply fill out the online application and get approved with a guarantor, with an advanced deposit, or on your own if you meet the individual income and credit requirements.
Can I make a special request for my room location?
Yes, you can! You can request certain floors, certain unit numbers, or units with a view, and we'll accommodate you as best we can. We also offer several special interest floors based on interests and hobbies so you and your neighbors can quickly become friends.
What kind of resident events do you offer?
Our regular resident events include large monthly events as well as weekly events like grocery bingo, a weekly movie series, Drag on the Drag, and more.
Can freshman and transfer students live here?
Yes, we welcome all residents and students at Dobie Twenty21.
Do you have to be a student at UT-Austin to live here?
Our community is open to anyone who qualifies. Our location and amenities make this a convenient community for anyone, including students at other colleges like Austin Community College, St. Edward's University, Huston-Tillotson University, Concordia University Texas, and the The Art Institute of Austin.